Why Choose DCA?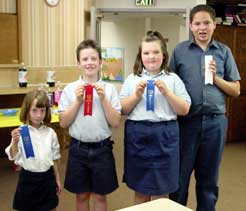 Founded: In 1997, the school was founded by Eilene Jones, M.A. to teach children with learning and dyslexia-related disabilities.
Multi-sensory teaching strategies are
implemented to meet the needs of various types of learning styles. Auditory, visual, tactile, and kinesthetic models of teaching are used.


DCA is a nonprofit organization and registered with the state of Colorado.


All learning is presented from a Christian perspective.


Academic instruction focuses on Reading, Written Language, and Mathematics. A strong foundation of basic skills is highly emphasized to ensure future independent learning. Reading instruction is phonics based using the Orton-Gillingham Approach.


All subjects are taught at a reading level commensurate with your child's reading level. Long term assignments are broken down into small, sequential steps and are done in class to ensure task completion while receiving maximum individual
instruction.


Annual diagnostic testing is available at our school. We evaluate the students using the Woodcock Johnson Revised Achievement Battery. This test is used in most school districts to assess academic achievement for Special Education placement.


Maximum number of students per class is 10. DCA offers a traditional school calendar operating from the end of August to the beginning of June. School hours are from 8:30 to 3:30.


DCA offers a safe, structured learning environment in which caring and kindness toward classmates is highly upheld.


Children experience success in the class room due to optimal positive and consistent reinforcement.


We service grades 2nd through 12th.



DCA offers a high school vocational education program which focuses on continued remediation of reading and writing skills, coupled with comsumer economics, computer sciences, history, math, and general science. Our college prep program is much more academically geared toward college entrance preparation. Students engage in advanced computer sciences, biology, chemistry, foreign language, literature, grammar, US and world history, and math that progresses through advanced geometry. Many of our graduates are prepared and excited about furthering their education after high school.



The Orton-Gillingham Approach
The Orton-Gillingham Approach was named for Samuel Torrey Orton (1879-1948), a physician, a scientist, and an educator and for Ann Gillingham(1878-1963), and educator with a mastery of the English language. Dr. Orton was a pioneer in the field of reading dysfunction and related language based difficulties. As early as 1925, he identified the syndrome of dyslexia as an educational problem. He combined neuroscientific information and developed a theory used to help remediate learning disabilities. Orton-Gillingham is taught in the primary, elementary and intermediate grades. In every lesson the student experiences a high degree of success and therefore learning becomes a positive experience.